My runs during this week were dominated by middle level character runs.  On Monday, the servers were down due to Update 21 being released, form 6 am to approximately 11 am so during my usual morning slayer run, I loaded up Neverwinter Nights II instead and took my Spirit Shaman, Ragnar through the crypts that are just off of Fort Locke.  I then headed off to work.  I wasn't able to check the new quests out yet with Update 21 because I don't have any characters higher than level 22 at the moment.  But during my mid-day run, or what I call my mid-day runs anyway (after work from 5:30 to 6:30 pm EST), I took Hamllin (Level 7 Fighter) through Under the Big Top and completed the House Phiarlan Carnival Series.  After taking down the Maleficient Cabal, I logged out for a few hours.  I logged back in with Charlock (Level 13 Fighter) who worked on reflagging for The Bloody Crypt.  He only had that quest on Hard difficulty, so I reran Tombs of The Immortal Heart, of the Sanguine Heart ,and of the Crimson Heart.  He only needs Tomb of the Burning Heart to get back into the Bloody Crypt.  While running with Charlock, I was also doing my digital tabletop game, so multitasking once again on Monday night :).  After those runs, I called it for the night.

Ragnar and his party diseased in the crypts by Fort Locke.

Craziness in Under the Big Top.

Charlock slicing away in the Tomb of the Immortal Heart.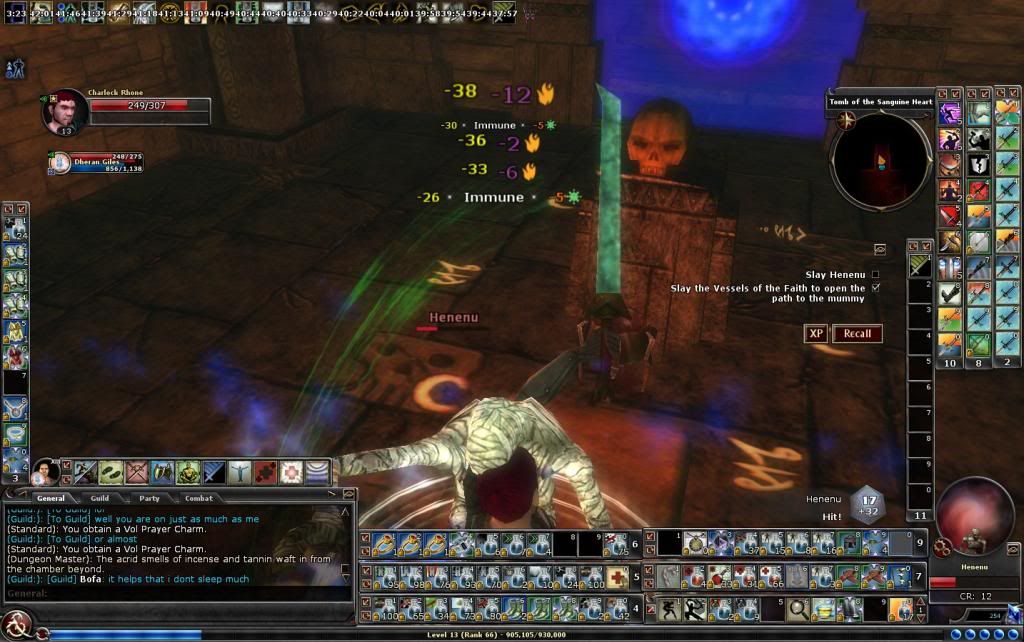 Charlock fighting Hentau in Tomb of the Sanguine Heart.
On Tuesday morning,  I logged on with Kolll (Level 20 Ranger/Shiradi Champion) and took him into the King's Forest for the morning's slayer run.  I ran around out in the vast wilderness surrounding Eveningstar for about 20 minutes or so and then logged out and headed to work.  I didn't get back on until later that night (missed my afternoon run as I was hanging out with an old friend) and I logged back on with Erdrique (Level 6 Druid) and started House Phiarlan Carnival Series and entered the quest A Small Problem.  I actually had some difficulty with this run and actually failed the quest during the end fight when Brawnpits suffered a number of negative levels from the worg.  Dejected, I was ported out of the quest and was forced to call it a night.

Kolll hunting in the King's Forest.

Erdrique looking for Brawnpits.
Wednesday morning came around and I logged in with Kanndar (Level 10 Paladin) who continued his explorations of Three Barrel Cove.  I headed out to work about 20 minutes later and didn't log back on until I got home with Hamllin (Level 7 Fighter).  I decided to work on some House K quests with Hamllin and took him into the Chamber of Insanity and was joined by Khamelblade.  I had a hard time with Hamllin that particular afternoon, as I had a hard time with wraiths (didn't have a ghost touch weapon, and the poison traps caused me some problems) but after a few deaths and Khamelblade's help, I was able to get him through it.  After that excursion, I called it for the night and spent the rest of the night with my wife for our weekly date night.

Kanndar disappointed that he didn't find the scrag, his last rare, in Three Barrel Cove.

Hamllin slicing through the Shade of Madness.
On Thursday morning, I logged on with Harrgon (Level 9 Favored Soul) and took him into Tangleroot Gorge.  He is still missing a few of the rares out there, although I did find Jana, the Barmaid, which was a good fine as she tends to spawn rather infrequently.  Later that afternoon, I logged back on with Erdrique and took him back into the quest A Small Problem.  This time though I was better prepared with deathward clickies available to help protect Brawnpits.  During this particular run, I was able to find the third shrine and to complete the optional of the "crush the earth elementals", something I had only done once before.  I didn't realize that featherfalling off of the cliffs just before you start fighting all of the tieflings led you to that shrine and last earth elemental.  I actually stumpled upon this accidentally but it helped greatly because I had access to another shrine for my cleric hireling.  This time, I was able to keep Brawnpits alive with little difficulty, and Brawnpits didn't even have the aggro of the worg during this fight, I did instead.  Later that night, I logged on with Lorrikk (Level 10 Monk) and took him through the Bloody Crypt on elite (where he received almost 18,000 experience not including the optionals) and Devil's Assault on normal.  After those runs, I called a night.

Harrgon working on the spiders in Tangleroot.

Fighting through the wights of The Bloody Crypt.

Lorrikk waiting for the enemies of Shavarath in Devil's Assault.
So I had some struggles earlier in the week, but luckily things smoothed out.  Here is to a fun weekend!! 🙂  Thanks for reading and happy hunting everybody!!